Introduction to Electrical Solar Services
We are a MCS (Microgeneration Certification Scheme) installer of PV (photovoltaic) Solar Panels. Our MCS accreditation number is NIC 1257.
In order to claim feed in tariffs your solar system must be installed by an MCS accredited installer.
We cover domestic, business, public sector and school installations. With the new Clean Energy Cash-back Scheme (also know as the Feed In Tariff) there has never been a better time to install a solar system.
FROM 1ST April 2010, the Government has introduced Feed in tariffs, under which householders earn non-taxable income for generating electricity regardless of whether or not you use it.

The feed in tariff is guaranteed by the government for 20 years, at the rate prevailing when you install the system. So every year until 2032 you can earn 16.0p per kWh generated.*

Tariff levels for Clean Energy Cash back Scheme (CECS) from 1 November 2012 are as follows: (Rate subject to change 1st Nov 2012)
| | | |
| --- | --- | --- |
| System Type | System Size | Tariff per kWh Generated (locked for 20 yrs) |
| New Build/Retrofit | <4 kWp | 15.44p |
| New Build or Retrofit | 4-10 kWp | 13.99p |
| New Build or Retrofit | 10-50 kWp | 13.03p |
| Standalone | - | 7.1 |
| | | |
| --- | --- | --- |
| 'New Build' | - | applies to systems integrated into new buildings |
| 'Retrofit' | - | applies to systems mounted on existing buildings |
| 'Standalone' | - | relates to systems that are installed primarily to feed power into the grid, without much of the energy being used on site. |
| | |
| --- | --- |
| | |
| * | From 1st April 2012 your house will need an EPC rating of D or above to qualify for the higher rate 16p Feed-in Tariff. |
There has never been a better time to install to Photovoltaic System. You can lower your exposure to rising and volatile electricity prices by reducing the amount you buy off the grid whilst benefiting from extra guaranteed income from the Clean Energy Cash-back Schemes (CECS) for the next 20 years.
The average house in the UK uses 3500 kWh of electricity per annum. A typical 4kw Solar electricity system produces around the same amount of electricity. An average home will use 50% of the solar electricity generated and export 50% to the national grid.
The table below shows how much you could benefit from installing a PV Solar system:
4 kWp PHOTOVOLTAIC SYSTEM
Annual Output
3334.40 kWh
CECS Tariff
15.44p per kwh
Annual Income from CECS
(3334.40 x 15.44p)
£514.83
Savings from Bill
(50% of 3334.40 @13p kWh)
£216.74
Export Payment
(50% of 3334.40 @4.5p kWh)

£75.02

Total income
£806.59
Average payback
8 years
Paying for your solar system with Savings & Investments
The current rate of interest from a Bank or Building Society is around 2-3%, whilst the rate of return on a standard 4 kWp system installed by S & D Electrical Services Ltd is approx 10-12%. This return is payable for the next 20 years, is linked to inflation and is tax free. Solar panels are also likely to increase the value of your home. Over the 20 year period of the Clean Energy Cash-back Scheme, you can make a profit of around £10,000. Your income and savings will be even better if energy prices increase.
As part of our Free no obligation survey we will provide the rate of return and profit available for your individual system.
The assumptions used on the above calculation are:
Orientation of panels is south
Panels installed at 30-45 degree pitch
50% of your electricity will be used in your home and 50% exported
Cost of electricity from your supplier is 13p per kWh
None or little shading
PV systems capture the sun's energy and turns it into usable energy for your property, lowering your consumption of grid electricity and reducing your bills.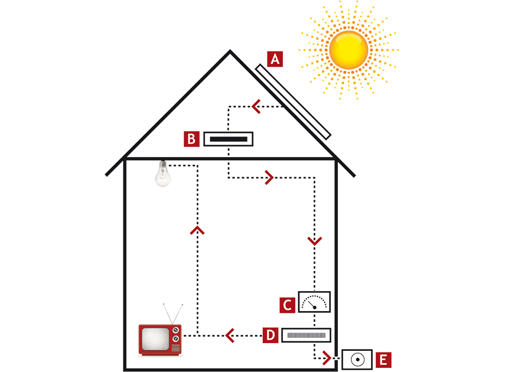 [A] PHOTOVOLTAICS
PV systems converts daylight into electricity & supply this energy to your property for use by your electrical appliances. Even in Cloudy UK, PV can produce significant amounts of electricity. PV systems can be installed on any suitable roof, or can be ground mounted. PV panels vary, can be retrofitted to any existing property or integrated into new builds, increasing the energy rating and value of your property.
[B] INVERTER
Electricity generated by the photovoltaics is sent to the inverter. The Inverter transforms the DC electricity generated by the photovoltaics into standard household AC electricity. The AC electricity is sent to your distribution board for use in your property or for export to the grid.
[C] GENERATION METER
The generation meter measures the total electricity produced by your photovoltaic system. The amount produced is used to calculate your Green Energy Cashback payment.
[D] YOUR DISTRIBUTION BOARD
The PV system is connected to a distribution board in your home or property. From here the electricity produced by your PV system can flow to any appliances needing power such as lights, computers etc. If your PV system produces more electricity than you need the excess is exported to the grid.
[E] YOUR GRID CONNECTION
If your PV system is producing more power than you need, it will send this excess energy onto the grid. If your PV system is not producing enough for your needs then additional energy will automatically be imported from the grid.
Your electricity meter
A new Import/Export meter can be installed by your electricity provider. This measures ho much electricity is bought in from the grid from your PV system for which your electricity provider will pay you.
There are four main types of PV. Each one of these has a different efficiency level and characteristic. We offer a range of products so that you can be sure you receive the most cost effective and efficient system for your property.
MONOCRYSTALLINE
| | | | | | | | | | |
| --- | --- | --- | --- | --- | --- | --- | --- | --- | --- |
| Output per square metre: | | | | | | | | | |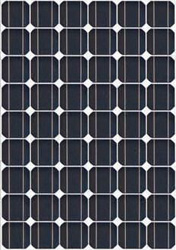 Monocrystalline cells can be distinguished by their uniform appearance and are usually dark blue or black in colour.
AMORPHOUS
| | | | | | | | | | |
| --- | --- | --- | --- | --- | --- | --- | --- | --- | --- |
| Output per square metre: | | | | | | | | | |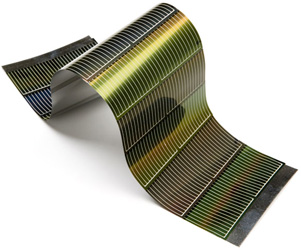 Amorphous PV, also known as 'Thin Film' is made entirely differently from the crystalline modules and the output tends to be much lower. They are however, flexible so can be used in many more applications.
POLYCRYSTALLINE
| | | | | | | | | | |
| --- | --- | --- | --- | --- | --- | --- | --- | --- | --- |
| Output per square metre: | | | | | | | | | |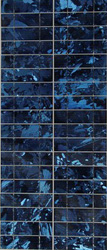 Polycrystalline modules are distinguishable by their crystal-like appearance. These provide slightly lower output than the Monocrystalline modules but are in turn slightly less expensive.
HYBRID
| | | | | | | | | | |
| --- | --- | --- | --- | --- | --- | --- | --- | --- | --- |
| Output per square metre: | | | | | | | | | |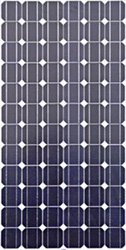 Hybrid modules contain a layer of both Amorphous and Crystalline cells providing the best all round performance. Although more expensive, they provide much better output per square metre. This is particularly useful when the roof is limited.

Site Survey

We will conduct an assessment of your property for suitability for a PV system. This allows us to provide a formal quotation including all aspects of your installation.

Grid Connection

We will make an application for connection to the grid. Domestic systems usually have no problem receiving permission, in some cases we can just inform the DNO of our intention to connect. Larger systems may take slightly longer

Planning

Domestic installations rarely require planning as systems fall within permitted development rights. Areas of outstanding natural beauty, conservation or listed buildings will need planning. Commercial buildings also usually need planning. We will assist you with this process.

Installation

Our fully trained installers will install and commission your PV system for you. Our project team will organise all the logistics around the installations such as access equipment (scaffold), electrical connection and installation, delivery and removal of waste. We will also electrically test your system and provide operation and maintenance manuals.

CECS Registration

We will provide all the documentation you require to complete your application and receive payments under the Clean Energy Cashback Scheme.

Maintenance

PV systems do not need regular maintenance, however we will provide service back-up should you experience any problems with your system.

Is my roof suitable?

A sloping roof will be suitable as long as:
It faces south, south east, south west, east or west (or anything in between these). A south facing roof is best and gives the highest output. If your roof is north east or north facing it will still generate power, but not enough to justify the installation from a financial point of view.
There is little or no shading.
A Flat roof will be suitable as long as:
There is little or no shading.
We can find a suitable means of attaching the panels to the roof (either by fixing to the underlying joists or by using free standing ballasted mounting frames).
Installing panels on a flat roof may require planning permission (see below).
Can I replace my roof tiles and fit solar tiles?
Yes. Solar tiles or slates are best installed on new builds or during re-roofing but are also offered where the aesthetics of the building require a more integrated look.
Do I need Planning Permission?
Recent changes to planning law means that a PV system on a domestic dwelling usually counts as 'permitted development' and can be installed on a sloping roof with out the need for planning permission, as long as the panels project no more than 200mm from the roof surface (our panels will comply with this, as long as your installation is on a sloping roof).
If your installation is on a non residential property, a flat roof, a listed building or located in a conservation area or world heritage site you will require listed building consent or planning consent.
This is fairly straight forward, which we can assist you with.
What size system do I need?
We will recommend a system based on the size of your roof and the budget you have to invest. To figure out which is best for you we will complete a site survey and recommend the best system for your home. To figure out how many units of electricity you consume in a year, look at your last years electricity bills.
How do the feed in tariffs work?
We have devoted a whole page on this click here. For comprehensive information, including copies of legislation and lots more frequently asked questions go to
www.fitariffs.co.uk
What sort of payback time and financial return can I expect?
Based on current levels of feed in tariffs and on our current prices, we have calculated payback times of between 8-10 years for larger systems (2.5kWp or larger).
The income from Feed in Tariffs is non-taxable, making the investment very attractive. For a basic rate tax payer, the financial return is equivalent to a 20 year taxable investment paying between 8% and 10% per annum. For a higher rate (40%) tax payer, the financial return is equivalent to a 20 year taxable investment paying between 10% and 12%.
Questions about S & D Electrical & Solar Services
Are S & D Electrical Services Ltd accredited under the Microgeneration Certificate Scheme?
Yes we are accredited to install Solar PV, our reference number is NIC 1257.
Please note you must use an accredited installer to be able to obtain the relevant fed in tariffs.
Where does S & D Electrical & Solar Services install?
The short answer is Nationwide. Our Head office is in Chichester, however we have network of staff through-out the UK.
Questions about the installation process.
How long does the installation take?
Our Installations typically take 1-2 days. We can usually fit your installation in within one to two weeks of receiving your signed quotation acceptance.
Will there be a lot of disruption?
There will obviously be some, but we work hard to ensure that we make as little impact as possible on your daily routine. The internal electric works take about a day, the roof works take 1-2 days, depending on the number of panels you have. We always tidy up after ourselves.
Will scaffolding be required?
For most installations scaffolding will be required. This is to protect our workmen whilst working on your roof and to comply with Health & Safety legislation. In the case of a 'new build' scaffolding is usually already in place.
Do I need to employ an electrician?
No, S & D really are a 'one stop shop', we are accredited through the NICEIC so we are able to do all the electrical work with our in-house engineers.
Questions about the system?
Which products do we use?
We use quality products.
Our Inverters comply with G59/G83 legislations for the UK.
We offer a range of Panels, we can supply pretty much any panel you want, Hyundai, Panasonic, Canadian Solar & Yingil are our most popular brands. All panels are accredited under the Microgeneration Certification Scheme and come with a 10 year defects Warranty, and a 25 year performance warranty.
How much Maintenance is required?
We can provide a maintenance programme to suit each individual needs.
What guarantees do we offer?
All panels are accredited under the Microgeneration Certification Scheme and guaranteed by the manufacturer to at least 90% performance for 10 years and 80% performance for 20 years. An extended warranty is available at an additional cost.
The inverters have a warranty of 5 years again extended warranties are available at an additional cost.
Is it safe?
Yes, Solar PV does not emit any toxic chemicals and there are no moving parts, it is essentially just another electrical circuit in the house.